Former tennis great says the push to have her name removed from a show court at Melbourne Park is disappointing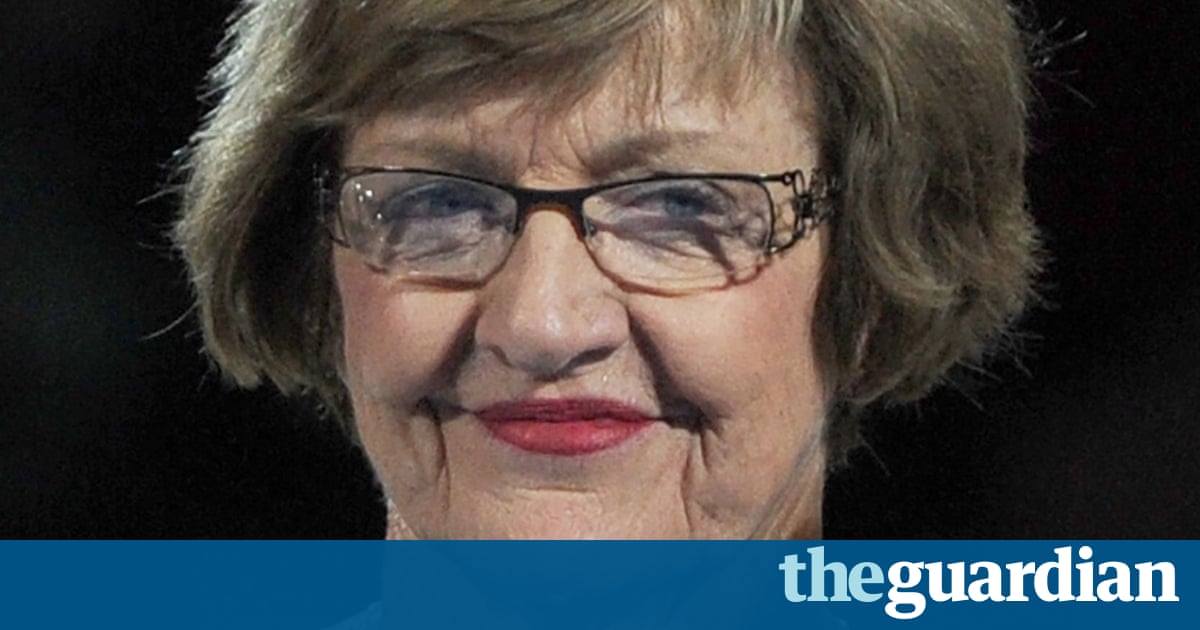 The former tennis champion Margaret Court has claimed tennis is full of lesbians following a row over remarks she made previously about gay marriage. She added that transgender children were the work of the devil.
Courts earlier comments opposing same-sex marriage sparked furious debate about whether the show court named in her honour at Melbourne Park should be changed. However, she said that attempts to remove her name from it were bullying.
In an interview with Vision Christian Radio on Wednesday, Court claimed that a gay lobby was trying to get [into] the minds of children through Australias Safe Schools anti-bullying program.
Tennis is full of lesbians. Even when I was playing there were only a couple there but those couple that led took young ones into parties, Court said. And what you get at the top is often what youll get right through that sport.
She added: Were there to help them overcome. Were not against the people.
Martina Navratilova and Billie Jean King have called for her name to be stripped from the venue at Melbourne Park, comments which Court said were disappointing.
I think its bullying, she said. [Ive got] nothing against homosexuals as individuals, they can do what they want to do but my belief as a Christian is marriage the Bible way and I think its sad that these people are using that to try to hit below the belt.
Court, 74, is a senior pastor at Perths Victory Life church and has been a critic of homosexuality and same-sex marriage for decades. The former womens tennis world No1 won a record 24 grand slam singles titles.
In a 45-minute interview and talkback session with Vision, Court focused on her opposition to the Qantas CEO, Alan Joyce, for his promotion of marriage equality but she also skipped from subject to subject in an, at times, disjointed expression of her beliefs.
We know that homosexuality is a lust of the flesh, so is adultery, fornication, all those things they too know this, this is why they want marriage, because its self-satisfying. I think they know it comes against Christianity, the beliefs of God, but in some way its justifying.
Court called on gay people who did not want marriage equality to speak up, saying it was really a minority of the LGBTI community campaigning for it. Everybody knows that it is wrong but theyre after our young ones, thats what they are after.
She also spoke about the Safe Schools anti-bullying program, saying it created confusion about gender and sexuality.
The gay lobby is behind that bullying program in schools and children not knowing, whether they are taking out a he or a she and an it and a we or they and if you feel like being a girl you can dress like a girl. I think, what confusion for a child. I get confused talking about it, Court said.
There is a whole plot in our nation and in the nations of the world today to get the minds of the children.
While gay Dutch professional Richl Hogenkamp is the only elite player on record as saying there should be a name change, Australias stars competing at the French Open in Paris are strongly united in disagreeing with Courts views.
Australian players including grand slam champion Samantha Stosur have deferred any decision about a possible name change to higher authorities, saying Court, like anyone, is entitled to her opinion.
But they stand united in opposing Courts stance. Australias mens No1 Nick Kyrgios, Ashleigh Barty, her doubles partner, Casey Dellacqua who has two children in a gay relationship John Millman and Thanasi Kokkinakis joined Stosur in expressing support for marriage equality.
Stosur said on Wednesday following a second round win at Roland Garros: I think thats all pretty crazy stuff. I think its pretty obvious that the whole tennis community out here has pretty much the same opinion and were going to all stand by that.
Dellacqua said of the initial comments: At the time I was really hurt. I was hurt because I actually know Margaret personally, I used to hit with her back in Perth.
I let it go because it was a very happy time in my life so I kind of just ignored it and thought, Im not going to let anyone ruin my happiness. Im fine and Im very conscious of the fact that everyone is allowed their opinion, but when you start singling out my family especially, thats when its not okay. And my family do not deserve to be subject to that.
Dellacqua, though, does not have a problem playing in the arena named after Court. She said: I have a huge amount of support in Melbourne. I love playing in Melbourne so, whatever court that might be on, I feel fine about all that.
Courts initial comments were made in a letter to a paper in Western Australia where she announced she would stop using Qantas where possible in protest against the airlines promotion of same-sex marriage.
The mens world No1, Andy Murray, appealed to authorities to bring the issue to a head sooner rather than later to avoid any risk of players boycotting the Margaret Court Arena at the Australian Open.
Murray said a meeting between the games grand slam competitors was needed to ascertain the general consensus. If something was to be done, I think it would be a lot more beneficial to do it before the tournament starts, Murray said. For players to be in a position where youre in a slam and kind of boycotting playing on the court, I think would potentially cause a lot of issues.
Read more: https://www.theguardian.com/sport/2017/may/31/margaret-court-tennis-reaction-same-sex-marriage-opposition-is-bullying